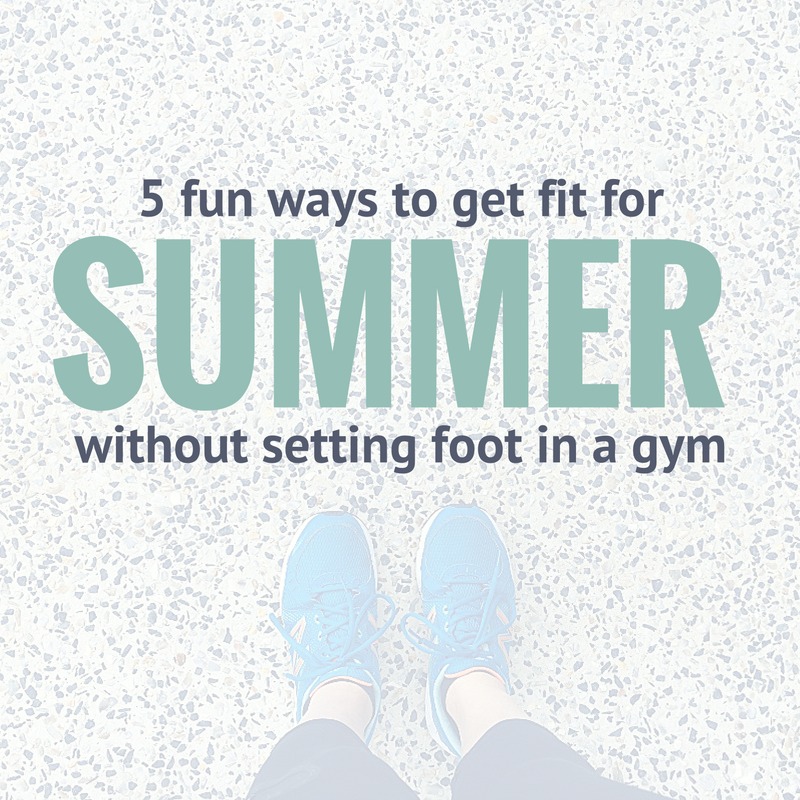 It's that time of year again. The weather is supposed to be warming up and the days are getting longer. Everyone on social media has new running shoes. Something tells me it's time to get fit for summer. This year we'll make an effort. How many times do you start a regime but just can't keep it up?
If getting up early to hit the gym before work isn't your idea of a good time, don't worry. I've got 5 fun ideas that will help get you fit for summer in Perth, without stepping foot in a gym. If you're having fun, you're much more likely to keep it up.
1. Dance Like No-one is watching
If dancing in your living room is more your thing than choreographed group fitness, dancing in the dark is for you. There are venues popping up all over Perth providing you a safe (dimly lit) place to bust a move. It's a great way to listen to awesome tunes with like-minded people who don't care if you dance like your dad.
Regardless of which group you go to, the gist is the same.  It's dark, wear what you like, no alcohol, no drugs, there are no dance moves to learn and no instructor to follow. Once the doors open the line pours in everyone finds a spot with just enough light to see where people are around you. The music starts and you have an hour (or more) to get your heart rate up dance your troubles away.
No Lights No Lycra
Weekly sessions are independently run all over Perth. Check the website for days and times.
Cost: $5-$8 at the door.
Lights Out Lets Dance
This local version advocates dancing for your health and wellbeing, fun and freedom. Sessions are an hour from 7:30pm at the Karrinyup Community Centre every Monday and St Hilda's Anglican Church Hall in Norther Perth on Thursday (starting October 13). If you have commitment issues, no worries! Just turn up, no need to book. Check out their Facebook for more info.
Cost: $8 at the door.
2. Hip Hop Yoga
If yoga hasn't appealed to you before, or if you want to mix things up – you have to try Hip Hop Yoga at VitalBeat studio in Midland. It isn't just hip hop, expect to hear some RnB, soul, jazz, funk, reggae & roots, trip hop and popular radio tracks. They also have dedication classes (like 1 hour of Beyoncé) and every Friday is Old Skool  . There are classes for mums and bubs and another for parents with littlies running around. Get yourself a glass of homemade kombucha and take home some greens from the vegie garden for dinner.
Cost: Casual, weekly/monthly unlimited and 10 class passes. A 10 pass class = $160. Discounts for concession holders. Book online to secure a place.
3. Bounce Fit
How can you not have fun free jumping on a trampoline? Bounce Inc in Cannginton runs a variety of options for keeping the kids entertained. Bounce Fit is special fitness class for grown-ups. A high intensity but low impact cardio class in a fun atmosphere with awesome tunes. Classes run for 45 minuteson on Monday, Wednesday and Friday at 10am and Monday, Tuesday and Wednesday at 6pm & 7pm. Book online as classes sellout.
Cost: 10 class pass = $136
 4. The Jungle body – Konga
Developed here in Perth, Konga is a high intensity but low complexity workout. There a set of simple, but effective moves taken from boxing, cardio, dance and sculpting. So you can focus on giving it your all without fumbling over the moves. This is another one with great music to keep you motivated making the hour fly by. If you've given up on group fitness classes because you spent the hour flapping two steps behind the instructor – this one is for you.
There are heaps of venues offer the Jungle Body Programs in Perth so check out the website for one near you.
Cost: From $10. Varies by provider.
5. Local Playground Workout
Next time the kids are at the local park, don't just sit there – get your heart rate up too. Use the equipment as a gym. Check out this video for ideas on using play equipment as a gym. And this one for working out on a swing.
So what are you waiting for? Get out there and do something fun.
Does your diet need a kick start for summer too? Hit me up, I'll come over, assess your health, detox your kitchen and set you on the right path. I will even come shopping with you to help you spot the hidden nasties in your regulars and find healthier options the family will love. 
Sarah Moore is a Registered Nutritionist in Perth Western Australia. She offers private consults in the privacy of your own home and specialises in weight loss, family nutrition and switching to a whole foods approach.