Nothing says winter quite like a bowl of steaming hot porridge. And nothing cures the winter blues like a bowl of steaming hot chocolate porridge! This version is every bit as nourishing as your regular oats, with an extra kick of chocolaty flavour and beautiful rich colour. I've kept the sweetness to a minimum so it won't overwhelm you, this is breakfast after all and not dessert.
I like to use milk in my porridge to make it a little more filling and to add some protein and calcium. You can use any type of milk or even water without changing the amounts. If you chose to make it with water, I suggest serving it with some natural or Greek yoghurt as well as the fruit, just to give it a boost.
Porridge doesn't keep very well, so if you need to make a single serve, just halve the ingredients and use a small saucepan.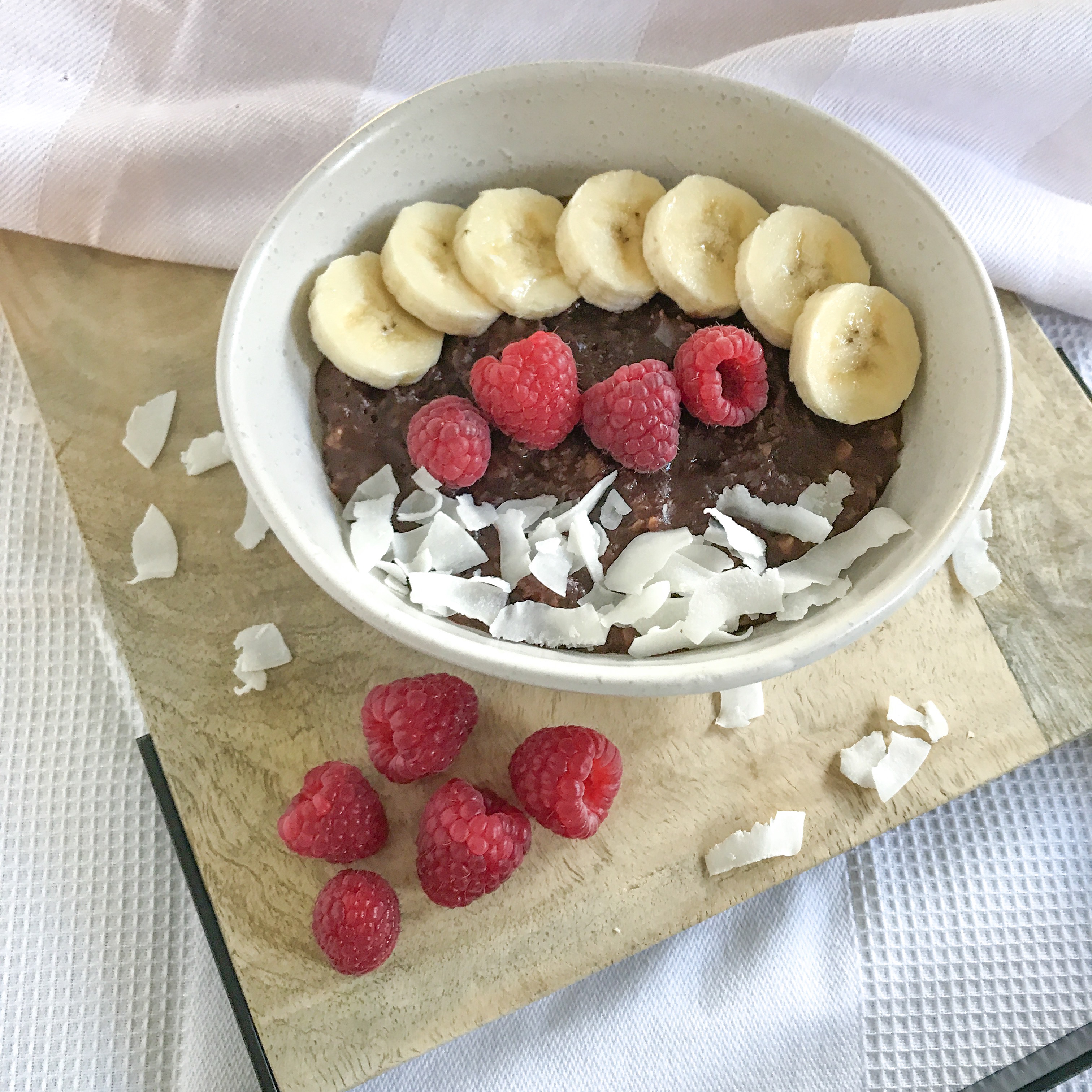 Chocolate Porridge
Ingredients
Serves 2
1/2 cup rolled oats
1 cup skim milk (or any milk or water)
1 small very ripe banana
1 heaped tspn cacao or cocoa powder
1/2 tspn cinnamon
1 tspn honey (optional)
Chopped fruit and coconut chips or nuts to serve
How to
Add the rolled oats, milk and banana (or dates) to a small saucepan. Gently bring to the boil on a low-medium heat, stirring regularly.
It should take about 5 minutes to come to a light boil.
Add the cacao and cinnamon, and continue to stir for another 2 minutes of cooking.
Remove from the heat and taste. Add the honey if needed.
Serve with chopped fresh fruit and same shaved coconut chips.
SERVE SIZE TIP: 1/4 cup raw rolled oats is a serve of grains. This should be enough for most people as porridge is surprisingly filling. The cooked portion does look small but try it first and then see if you need more. Some extra yoghurt and a piece of fruit should do the trick. If you're very active and you need your 6 serves of grains throughout the day, then buy all means, eat the double batch!
Sarah Moore is a mum, and university qualified Registered Nutritionist. She has 10 years' experience working with families to improve their health and wellbeing. Sarah has a simplistic and practical approach to family nutrition and wants you to know that activated unicorn berries are not the answer to your health and wellness. You can find her on Facebook and Instagram for more healthy tips and tricks.